RIHN's Associate Professor Keiichiro Kanemoto earned a place on the Highly Cited Researchers 2019 list, which was announced on November 19, 2019, by Clarivate Analytics, a global leader in analytics and academic research that aims to accelerate innovation.
The Highly Cited Researchers list recognizes world-class researchers with "exceptional research performance," demonstrated by "production of multiple highly cited papers that rank in the top 1% by citations" in Web of Science. For the 2019 list, more than 6,000 researchers around the world were selected in one or more of 21 fields, and 98 were from Japanese institutions.
Kanemoto was selected in "Cross-Field," a category newly introduced in the 2019 list to identify "researchers with substantial influence across several fields."
Kanemoto heads the project titled Mapping the Environmental Impact Footprint of Cities, Companies, and Households, which launched in April 2019. Please look forward to the results of future projects as well.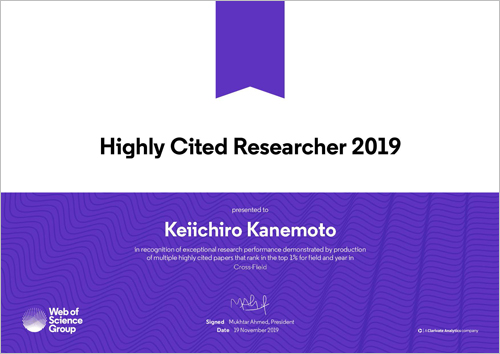 Highly Cited Researchers 2019