Webinar講演報告 7/16


北部インドにおける野焼きを原因とする大気汚染物質の排出量について
Emission of atmospheric pollutantsfrom agricultural burning in North India

山地一代(Aakash プロジェクト共同研究者)
神戸大学大学院 海事科学研究科

大気汚染物質の排出量の情報について,それぞれの化学種が「いつ,どこから,どれだけ」放出されたか,という数値情報を提供しているデータベースが,Emission Inventory(エミッション・インベントリ)である。時々刻々と変化する化学物質の大気中濃度や地表面への沈着量をモデルシミュレーションによって正確に推計するためには,高時空間分解能を有するエミッション・インベントリがモデル入力値として重要になる。複数の人工衛星からの情報に基づくエミッション・インベントリは広く公開されており,誰でも利用可能であるが,それぞれのデータベースの推計値間に有意な差が存在することも知られている(Pan et al., 2020)。これは,各データベースが採用する,野外燃焼されたバイオマスの推定量の違いに起因していると考えられる。Aakashプロジェクトでは,大気汚染が世界的にみて最も深刻なレベルにある南アジア,特に,北部インドにおいて,大気汚染の一要因と考えられている農業残渣の野外焼却(野焼き)に注目している。Takigawa et al. (2020)は,既存のエミッション・インベントリを用いた場合,大気中のPM などの大気汚染物質が極めて高濃度となる状況を説明できないことを指摘した。この結果に基づき実施した予備的な排出量推計では,当地域の野焼き起源の大気汚染物質の放出量が既存のデータベースよりも多い可能性もあることが確認できた。Aakashプロジェクトにて実施している,現地アンケート調査は,人工衛星観測では捉えることが困難な野焼きの実情を明らかにし,エミッション・インベントリの精緻化,さらに,高精度な大気汚染モデル予報の実現にとっても重要な役割を果たすことが期待されている。

X. Pan et al.(2020), Atmospheric Chemistry and Physics 20(2):969994,
DOI:10.5194/acp-20-969-2020
Takigawa et al.(2020), SOLA, DOI:10.2151/sola.2020-015
全体会議開催報告 9/22・23


Aakash Workshop 2021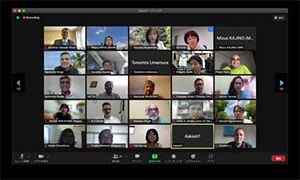 総合地球環境学研究所のAakashプロジェクトがオンラインホスト開催で行いました。国内外よりAakashメンバーを中心に60名参加しました。1日目はじめに地球研の杉原プログラムディレクターよりご挨拶があり、プロジェクトリーダーの林田教授によるIntroductionの後、各ワーキンググループから14名の発表者による研究報告が行われました。2日目には、各ワーキンググループ分科会にて研究報告とディスカッションが行われ、その後プレナリーセッションでも、活発な議論が交わされました。
WG1農村研究班
Deepak Singh(総合地球環境学研究所)
Alternative for agriculture waste: Converging multi-dimensional environmental management strategy in Ludhiana (India)
浅田 晴久(奈良女子大学 研究院人文科学系)
Regional characteristics of rice-wheat cropping system and stubble burning in Punjab
Kamal Vatta(パンジャブ農業大学)
Paddy straw management in Punjab: Issues and options
Chandra Mohan(ラブリープロフェッショナル大学)
Future plan for field experiments
WG2大気班
Sachiko Hayashida(総合地球環境学研究所)
Towards improved estimation of emissions from straw burning: summary of the mission DELHIS and future prospects
Tanbir Singh(総合地球環境学研究所)
Atmospheric emissions from primary crop residue burning in Punjab & Haryana: A way forward for improved emission estimates

Ardhi Adhary Arbain(東京大学大学院新領域創成科学研究科 大学院生)
Detecting stubble burnt area over Northern India using sentinel-2 observation on Google Earth Engine Cloud Platform
Surendra Kumar Dhaka(デリー大学ラジャニカレッジ)
Climatology of the meteorological parameters and its close linkages with PM 2.5 distribution over Delhi -NCR
梶野 瑞王(気象庁気象研究所)
Progress on numerical simulations for crop residue burning and DELHIS.
Abida Choudhury(総合地球環境学研究所)
Attempt to investigate the alteration in Aerosol-Cloud Precipitation Interaction Process from crop residual burning
Narendra Singh(アリヤバータ観測科学研究所)
The updates of Himalayan PM2.5 Network and results of ongoing observations from Nainital
WG3健康班
Yang Zhesi(京都大学地球環境学舎 大学院生)
Public perception of air pollution and stubble burning—a cross-sectional survey study in Punjab, India
中山 智喜(長崎大学 大学院水産・環境科学総合研究科)
Installation of 30 compact PM2.5 instruments between Punjab and Delhi and some PM2.5 observation results in India
大西 一成(聖路加国際大学 大学院公衆衛生学研究科)
Future plans for health classes and health surveys
New members

Deepak Singh
Dr. Deepak Singh is working as a Researcher in the WG-1 of Project Aakash and is trying to help show the linkages of air pollution in northern parts of India with historically embedded socio-economic and political issues affecting the contemporary environmental realities. Dr. Singh is an electrical engineer turned social scientist with a PhD in Science Policy. He has over fifteen years of cumulative industrial, field and academic experience and his areas of interest are in Energy, Environmental & Technological Governance, and Public Policy. He has an extensive collaboration network with over twenty two research institutes in fourteen different countries. His hobbies are trekking, travelling, reading books (especially history).

B. Abida Choudhury
Dr. B. Abida Choudhury is an atmospheric researcher. Her research interests includes cloud physics, climate change, teleconnections, satellite remote sensing and extreme events. She joined Aakash Project (WG2) and extended her research interests in understanding the cloud-aerosol interaction under different meteorological conditions. She did her PhD in Physics from Assam University Silchar in collaboration with IITM, Pune, India and NCAR, USA. She got an expertise of more than seven years on data analysis in this field of Meteorology and Atmospheric Science. Her research work are published in reputed journals like JGR-A, QJRMS etc. Dr. Abida presented her research work at various national and international conferences and also an active reviewer for some national and international journals. She is also enthusiastically engaged with the general public and school students to bring an understanding and awareness of climate science.

Tanbir Singh
Dr. Tanbir Singh recently joined as Researcher in Aakash project at Research Institute for Humanity and Nature (RIHN). His research work focuses on use of integrated approach of ground-based air pollution data, EOS datasets of multiple satellites, LULC, fire counts, burned area products and tracer analysis to better understand the temporal and spatial changes in air quality over different geographical regions. Earlier, after completing his Bachelor in Computer Science Engineering and Masters in Environment Science, he did his Ph.D. thesis entitled "Impact of Stubble Burning on Ambient Air Quality and Human Health in North India".
His research interests include air pollution monitoring and chemical characterization, biomass burning, emissions inventories, remote sensing, and EOS datasets. Before joining Aakash project at RIHN, he was working as Project Scientist in "Climate, Health & Air Monitoring Project" in Panjab University, India which was focused on "Communicating, Engaging and Empowering Communities for Clean Air and Better Health".