Environmental Change and Infectious Disease in Tropical Asia
The RIHN Ecohealth Project examined the relation between endemic infectious diseases of significance to public health and ecosystem and societal transformation. Project research was guided by the hypothesis that the health profile of a human population is a product of the social ecological system, and as a consequence, environment and health (and society more broadly) should not be studied in isolation from one another. Instead, the idea of ecohealth recognizes their interactions. From this viewpoint, the ecohealth of each social ecological system is unique, and strategies to promote good health and its supportive environment should be unique for each locality. This integrative, transdisciplinary perspective is very different from the conventional model of universal health.
Lao P.D.R.
In Lao P.D.R., the project collaborated with the Ministry of Health, Ministry of Education, National Institute of Public Health (NIOPH), Savannakhet Provincial Health Department, District Health Offices, as well as numerous health centers and communities. We studied liver fluke infection in the lowland area of Savannakhet Province in relation to development of wet rice field and irrigation systems. In the mountainous area of the same province, where ethnic minority peoples cultivate upland rice paddies, we studied malaria in relation to forest degradation. A trans-border malaria study was conducted among villages on both sides of the Laos-Vietnam border, where we found a large difference in malaria incidence. The project established two Health and Demographic Surveillance Systems (HDSS) and one mobile-phone network in the province, both of which will continue to produce ecohealth data after conclusion of the project and so to elucidate the relation between social-ecological transformation and a population's health profile.
Progress in 2013-2014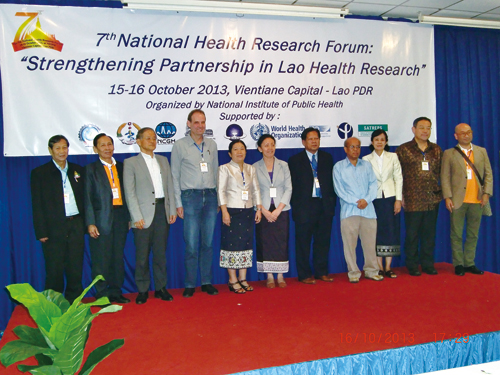 The 7th Laos National Health Research Forum (NHRF) was held in Vientiane in October 2013 as a part of the project's first year of CR activity. The results of the project were presented and further study plans for achieving the Millennium Development Goals (MDGs) and preparing for Sustainable Development Goals (SDGs) were discussed. We emphasized the importance of community-based ecohealth promotion and education to reduce the environmental and behavioral risk exposures to pathogens as well as harmful non-communicable factors, such as indoor pollution. We find that capacity building of village health volunteers is a critical element for the success of such endeavors. At the national level, strengthening health service systems should lead to universal health coverage, especially in the areas of curative medicine, immunization, and child delivery. Here there are two important factors. Providers must build the capacity of their health center and district staff, as well as provide good governance and management of the health system. Second, social registration of residents is essential for universal health care. A Health and Demographic Surveillance System (HDSS) is a kind of social experiments for social registration and personal identification, and the continuing improvement of HDSS data collection, protection, and analysis is important. We continue to work in these areas in the CR period.
Following the NHRF, the opening ceremony of the Sepon Village Health Volunteer Training Center was conducted at Sepon Inter-District Hospital, Savannakhet Province. The center was constructed with support from the Japanese Government's Official Development Grant Assistance for Grassroots Human Security Projects and also benefited from the corporate social responsibility activity of Hitachi Ltd. working in collaboration with the Savannakhet Provincial Health Office. Our project members will continue to promote ecohealth capacity building of local health workers and volunteers at the training center, while also collaborating in ecohealth research activities for which we recently received the Laos Friendship Medal.
Vietnam, Bangladesh, and Yunnan, China
In Vietnam, Bangladesh, and Yunnan, China, RIHN Ecohealth Project research activities continue by new sources of funding. We are maintaining the network and good relations in the field of ecohealth both nationally and internationally. The RIHN EcoHealth Learning Group was established in 2013 in order to identify new research projects. The J-EcoHealth (Japanese Association for Ecology and Health) was established in Hue, Vietnam at the meeting of the DIAS-GRENEei EcoHealth Project in December 2013. Progress in ecohealth research will be presented at the EcoHealth 2014 conference to be held in Montreal, Canada.
▲PAGE TOP
▲PAGE TOP