Project research focused on landscape change in the East Asian Inland Seas (the Japan Sea and East China Sea), a region of rich cultural and landscape diversity, from the end of Ice Age up to the present day. It emphasized two revolutionary processes of landscape shift in particular, Neolithisation and Modernisation, in order to develop a subtle and profound understanding of landscape and environmental issues in the region, and so inform a solid landscape protection and development agenda.
Earlier described as a static composition, landscape change is now considered as a process of interaction between physical environment and the culture and value systems of the inhabiting people. In the course of their everyday activities, people apply their environmental perceptions and skills to change their environment in accordance with their values and beliefs. The resulting landscape will become the nexus of identity for the next generation, which will in turn alter its environment according to its abilities and imagination. Since landscapes are the stages of everyday life, landscape study can reveal how and why environmental issues arise and can best be addressed.
Project achievements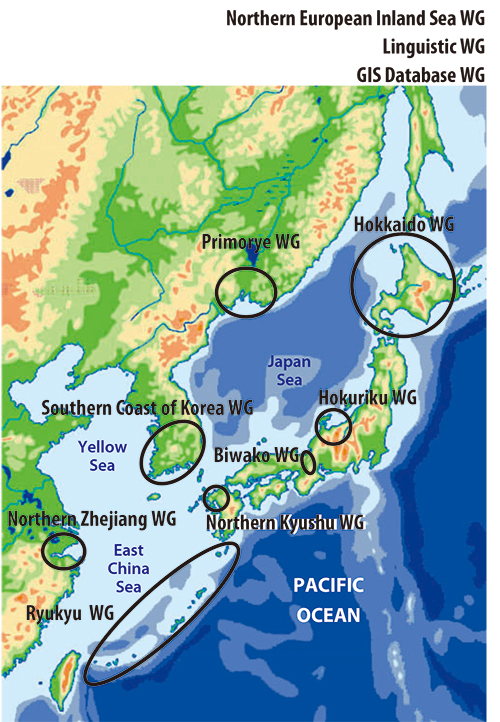 Comparative studies of periods of significant landscape change in key areas of the East Asian Inland Seas (Fig. 1) revealed several significant insights (Fig. 2):
(1) Neolithisation was not a short-term revolutionary event, but can be defined as a process lasting for millennia in which a sedentary lifestyle and agricultural landscapes gradually and permanently replaced previous foraging ones.

(2) Modernisation is also a long-term process lasting for centuries, in which inter-regional networks associated with an expanding division of labour and homogenized forms of landscape were created through industrialization and extensive market systems.

(3) Neolithisation brought about the mental separation of the human domain from nature, while modernisation created the concept that humans can subordinate natural surroundings to their control large-scale resource exploitation and land development.

(4) Given the considerable impact of Neolithisation and Modernisation on contemporary landscapes, which themselves serve as a material and cultural base of present human-nature interactions, long-term historical perspectives should be brought to bear on future environmental policies.

(5) The East Asian Inland Seas have allowed intense human interactions and so supported cultural unity within diverse local landscapes since prehistory. It is therefore indispensable to recognize such areas sharing historico-cultural backgrounds as areal units relevant to future environmental protection and landscape management.
▲PAGE TOP
Research communication
Project outcomes were published in academic journals and books, including a threevolume series on landscape history, and presented at various national and international congresses and symposia. The project has also been editing a special volume of the Journal of World Prehistory and creating an atlas of historical landscapes for the general public.
▲PAGE TOP