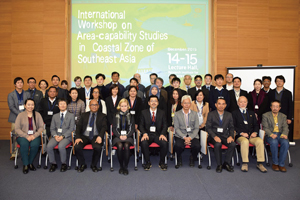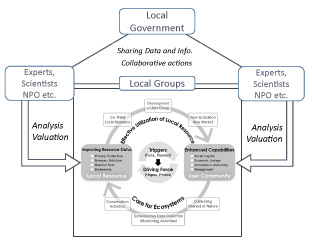 Coastal area ecosystem services are indispensable for rural people, but are also easily damaged by human use. Many coastal areas with high biodiversity and biological productivity are located in tropical zones of developing countries, as is the case in Southeast Asia. In such areas, ecosystem services, local livelihood and culture are closely related. Conservation and resource management strategies, however, are oft en derived from those of temperate regions, and usually target particular species or commercial resources with little consideration of how multiple ecologies and livelihood strategies overlap in culturally diverse contexts. In addition, in many cases, resource management and conservation activities are independently conducted by several different actors.
Ecosystem services have different significance for different peoples, depending on their interests and contexts. Although overuse and/or abuse of ecosystem services should be avoided, conservation actions should take careful account of the close relationship of local livelihoods and culture to local ecosystems, especially in rural areas lacking other livelihood opportunities. Addressing solutions to environmental problems in such contexts therefore requires linking people and policies engaged in both conservation and resource utilization.
This project attempts to examine several good ecosystem management practices based on local community participation in order to assess the conditions and functions of each actor in creating "an Area-capability cycle". We expect that an action contributing to Areacapability can link utilization and conservation and facilitate appropriate ecosystem utilizations, improve local life, cultivate ecosystem health, and foster hope for local society.
The Area-capability (AC) Cycle was proposed as one model of sequential change in the harmonization of natural resource conservation and management. The AC Cycle would be comprised of: (1) Local community use of resources unique to the region; (2) Resource users' understanding of the importance of, and care for, the environment that supports the resources used; and (3) A balance between using and caring for resources and the supporting environment, which is evaluated by outside entities.
Project research will apply the AC Cycle model to many cases in order to examine its validity and refine understanding of how to harmonize conservation and management of natural resources. We believe that the set of factors included in AC and the AC Cycle will be useful as a checklist when developing proposals for regional development and revitalization activities, assessing the balance between use and care, and clarifying the standpoint and role of each stakeholder when evaluating projects. As each AC Cycle corresponds to a resource used by a local community, we believe the number of AC Cycles can be an indicator of the abundance of local resources in a given region and, at the same time, an indicator of the potential for various types of cooperation. As such, we suggest that the number of AC Cycles could be used as an index for regional development.
▲PAGE TOP