Research Background
Mercury (Hg) is a toxic metal that seriously threatens human embryonic and early-childhood development, and is extremely toxic to the human body. Mercury pollution is a serious environmental issue requiring global action. Recent investigation by the United Nations Environment Programme (UNEP) has highlighted the enormity of Hg pollution in developing countries and the associated harmful effects on human health and ecosystems. One of the main causes of Hg pollution is ASGM, in which Hg is used as the traditional method of amalgamation to extract gold from the ore rock. This activity is responsible for 37% of global anthropogenic Hg environmental emissions. This method of amalgamation is quicker, simpler, and more cost effective than alternative methods, and is widely used in many ASGM communities. According to data from the UNEP, ASGM produces 15-20 % of the global gold market. Almost 15 million people, including about 4-5 million women and children, participate in ASGM activities in more than 70 countries. The Hg pollution generated during ASGM indirectly affects more than 100 million people worldwide. ASGM activities are also sources of social problems, such as land tenure issues, social instability such as migration, and conflict between residents. The vicious cycle related to poverty and environmental degradation in developing countries is well known. Even though the Minamata Convention was established to protect human health and the environment from the adverse effects of Hg, mercury emissions are still increasing rather than decreasing. The global mercury related environmental pollution from ASGM, which is caused by poverty, cannot be solved by ratification of international treaties or NGO activities alone.
Research Objects
The objectives of our research project are to: 1) understand the link between poverty reduction and environmental management in ASGM areas; 2) establish a process for constructing sustainable societies through regional innovations in ASGM areas; and 3) strengthen environmental governance in ASEAN countries.
Methodology and research process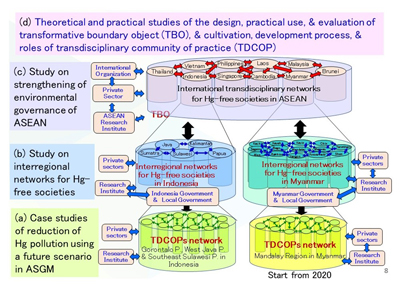 Our project members have been conducting transdisciplinary research and practice in collaboration with mining communities, local residents, key stakeholders of public and private organizations and associations such as senior officials and staff of local and central government, key persons of companies, researchers of local universities, members of NGO, NPO, and others. This work emphasizes:
▲PAGE TOP
Expected goals of the project
Regional innovation will arise as a consequence of environmental and industrial innovations introduced with a transdisciplinary approach, including the development of a future scenario for an Hg-free society, the co-creation and practical application of TBOs, and the mobilization of TDCOPs. By strengthening environmental governance, which consists of multiple layers of co-operative organizations, we will also develop a route via which the problem of global environmental Hg pollution can be resolved.
Progress and Achievements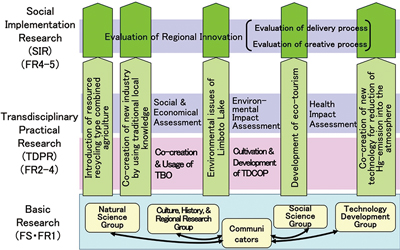 During FR1, members of SRIREP project carried out several dialogs, fieldworks, and research activities with various stakeholders and key stakeholders in mining communities, local universities, and public and private organizations in both Indonesia and Myanmar.
Case studies have been completed largely in Gorontalo province. The resulting data show that air and water have been contaminated due to mercury exposure related to waste water from ASGM in the region. Further studies regarding mining community livelihood and value-added composite agriculture in non-polluted areas, as well as workshops are being conducted as transdisciplinary practice research for poverty reduction for the next fiscal year, especially in both Gorontalo, Sulawesi and Bandung, West Java (Figure 2). Some villages of the southern Bandung region of West Java have voluntarily discontinued their ASGM activities as a result of two TBO-based dialogues. (Photo 1)
In Indonesia, to study the establishment of interregional networks for a mercury-free society, two medical seminars on human health impact of heavy metals were held in May 2019. They included approximately 210 participants, including health care professionals, scientists, and researchers, including medical scientists from Japan and local universities and medical-related associations of Makassar City and Gorontalo City. Medical workshops were conducted, including information on Minamata disease, and the local experience of and concerns related to the current challenges of heavy metals intoxication was discussed.
In order to study improvements in environmental governance in ASEAN countries, dialogs meetings between SRIREP members and key stakeholders were conducted in 2019. In December 2019, the UNEP Global Environment Information Exhibition was co-organized with the Japan Association for UNEP in Yangon, Myanmar, in collaboration with some private sector actors. The 2nd ASEAN - Japan Meeting Point of Collaboration by Stakeholders and Researchers for Reducing Environmental Problems in ASEAN Countries was held in Nay Pyi Taw, the capital of Myanmar, in collaboration with universities of Japan and six ASEAN countries (Brunei Darussalam, Indonesia, Malaysia, Myanmar, Thailand, Vietnam, Nepal, and Ministry of Natural Resources and Environmental Conservation (MONREC). About 280 attendees, including researchers and scientists, senior officials and key stakeholders from Myanmar ministries, universities, NGO, and private companies attended the seminar. (Photo 2)
Dialog meetings, workshops, and stakeholder seminars are intended to establish future collaborations, multi-tier environmental governance for making the future scenarios with key-stakeholders based on the back-casting method, creating TBOs, TDCOPs, and policies, strengthening of environmental governance of ASEAN, and constructing mercury-free society networks and sustainable societies through regional innovations.
▲PAGE TOP