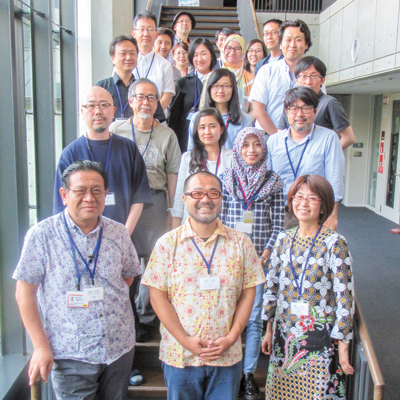 Project Leader
SAKAKIBARA Masayuki
Ehime University
Professor Masayuki Sakakibara is an earth scientist with multidisciplinary backgrounds of Geology, Petrology, Astrobiology, Geochemistry, Medical Geology, Geoengineering, and Remediation Engineering etc., currently working at Faculty of Collaborative Regional Innovation and Graduate School of Science and Engineering, Ehime University in Ehime Prefecture. His strong interest in environmental pollution led him to intensive fieldwork and activities to reduce mercury pollution and poverty problems in artisanal and small-scale gold mining (ASGM) areas in Indonesia for over eight years, work conducted with students, scientists, researchers, and various stakeholders from Indonesia, ASEAN countries, and Japan. Professor Sakakibara is also responsible for international conferences and seminars such as Transdisciplinary Research on Environmental Problems in Southeast Asia (TREPSEA) and Transdisciplinary Research and Practice for Reducing Environmental Problems (TRPNEP), which focus on transdisciplinary approaches to research and practice, as well as development of various regional innovations for the reduction of environmental pollutions in ASEAN countries.
>> Annual Report
>> Project's Page
Researchers at RIHN
KIMIJIMA Satomi
Researcher
KUANG Xiaoxu
Researcher
Win Thiri Kyaw
Researcher
Myo Han Htun
Research Associate
TAKEHARA Mari
Research Associate
Main Members
MATSUDA Hiroyuki
Yokohama National University
KASAMATSU Hiroki
Ehime University
SHIMAGAMI Motoko
Ehime University
MIYAKITA Takashi
Kumamoto Gakuen University
MATSUMOTO Yuichi
Kwansei Gakuin University
Mohamad Jahja
State University of Gorontalo
Bustanul Arifin
Lampung University
Idham A. Kurniawan
Institut Teknologi Bandung
Basri
College of Health Sciences Makassar
Bobby
Network Activities Groups
Research Background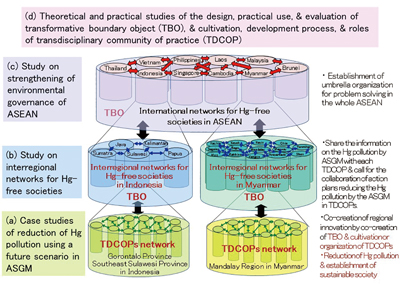 Mercury (Hg) is a toxic metal that seriously threatens the embryonic and early-childhood development of humans, and is extremely toxic to the human body. Mercury pollution is one of the most serious environmental issues and requires global action for its resolution. Recent investigation by the United Nations Environment Programme (UNEP) has highlighted the enormity of Hg pollution in developing countries and the associated harmful effects on human health and ecosystems. One of the main causes of Hg pollution is ASGM, in which Hg is used as the traditional method of amalgamation to extract gold from the ore rock. This activity is responsible for 37% of global anthropogenic Hg environmental emissions. This method of amalgamation is quicker, simpler, and more cost effective than alternative methods, and is widely used in many ASGM communities. According to data from the UNEP, ASGM produces 15-20 % of the global gold market. Almost 15 million people, including about 3 million women and children, participate in ASGM activities in more than 70 countries. The Hg pollution generated during ASGM indirectly affects more than 100 million people worldwide. ASGM activities are also sources of social problems, such as land tenure issues, social instability such as migration, and conflict between residents. The vicious cycle related to poverty and environmental degradation in developing countries has long been discussed. However, the behavioral patterns that make it difficult for those living under chronically impoverished conditions to escape from those conditions are still not well understood (Sen, 1999; Banerjee and Duflo, 2011). The Minamata Convention on Hg is a global treaty established to protect human health and the environment from the adverse effects of Hg. The Convention addresses ASGM and the development of national plans to manage ASGM.
Research Objects
The objectives of our research project are: 1) to understand the link between poverty reduction and environmental management in ASGM areas; 2) to establish a process for constructing sustainable societies through regional innovations in ASGM areas; and 3) to strengthen environmental governance in ASEAN countries.
Methodology and research process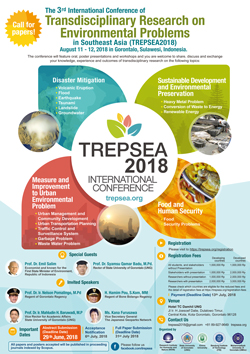 Our project will conduct the following research in ASEAN countries:
a) Case studies on reduction of Hg pollution using a future scenario of ASGM in Indonesia and Myanmar

Project members will (1) undertake environmental impact assessments; (2) study living conditions, cultures, history, and regional sociology; (3) cultivate or organize transdisciplinary communities of practice (TDCOPs) used by transdisciplinary boundary object (TBO); (4) co-create future scenarios; (5) co-design and co-produce with TDCOP members and other stakeholders; and (6) evaluate the progress of regional innovation through social and economic studies.

b) Study on interregional networks that aim to generate Hg-free societies in Indonesia and Myanmar

Study of interregional networks will be conducted in three steps: (1) construction of an exchange platform for information and collaboration on the management of Hg; (2) improvement of organizational and communication capacities; and (3) strengthening the communication policy with local and central governments.

c) Study on improvements in environmental governance in ASEAN countries

Project members will study the principles and processes used for multilayer and cooperative environmental governance. They will also investigate to strengthen environmental governance of the ASEAN countries.

d) Theoretical and practical studies of the design, practical use, and evaluation of TBO, and cultivation, the development process, and roles of TDCOP

Project members will design TBOs and then use and evaluate them in order to cultivate the development processes of TDCOPs with the collaboration of key stakeholders at the study areas.
▲PAGE TOP
Expected goals of the project
Regional innovation will arise as a consequence of environmental and industrial innovations introduced with a transdisciplinary approach, including the development of a future scenario for an Hg-free society, the co-creation and practical application of TBOs, and the mobilization of TDCOPs. By strengthening environmental governance, which consists of multiple layers of co-operative organizations, we will also develop a route via which the problem of global environmental Hg pollution can be resolved.