Backgrounds and Objectives
Social issues caused by environmental deterioration present complex and multidimensional problems for science. To approach them, solution-oriented research has involved research experts from different domains (interdisciplinarity) and also practitioners such as governments, funders, industries, non-profit organizations, and civil members (transdisciplinarity). However, such team science is often disrupted by asymmetric information, knowledge, wisdom, value, socio-economic status, and power among actors. This Core Project, also called the Open Team Science (hereafter OpenTS) Project, develops a methodology to reduce (rather than dissolve) such sociopsychological asymmetry for the sake of more efficient transdisciplinary (TD) collaboration.
Methodology
To develop the methodology, this project interlinks the concept of open science as an open scientific knowledge production system with a TD approach to boundary spanning by transforming in-between spaces into "our" epistemic living spaces. Technically, boundary spanning can be achieved by a combination of: (1) discovering and sharing the goals that actors with different interests can tackle together (transcending); (2) considering ethical equity, with special attention to empowering marginalized (or "small voice") actors; (3) developing fair data visualization based on the FAIR (findable, accessible, interoperable, and reusable) principles; and (4) facilitating dialogue. Civic Tech can be applied as a holistic approach. It is an open governance approach in which civic engineers develop a solution to local issues by using open governmental data and information and communication technologies.
As a working hypothesis, the proposed methodology is assessed and improved in an iterative process through practical case studies of community-based participatory research projects for socio-environmental issues (the hypothesis-practice-assessment cycle), with special interest in developing a method to measure participants' perceptual transformation.
Expected results
At the completion of the project, we expect to establish the OpenTS methodology by successfully interlinking open science and TD theories, with new knowledge about effective (and ineffective) combinations of visualization and dialogue tools, and with qualitative and quantitative methods to measure the effect of boundary spanning.
The project has two major interfaces of social outputs. The Research Group will make suggestions for national and international open science policies, while the Practice Group will contribute to community-based policymaking and social startups for the sustainable waterweed recycling in Lake Biwa and built heritage management in Oman.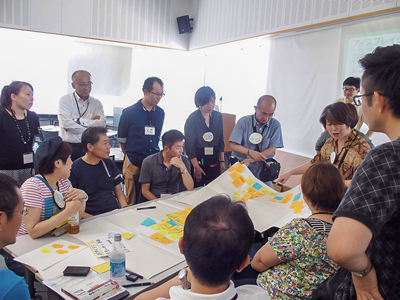 A workshop held in the city on the shore of Lake Biwa with participation of research experts, civic engineers, municipality officers, local business people, and residents.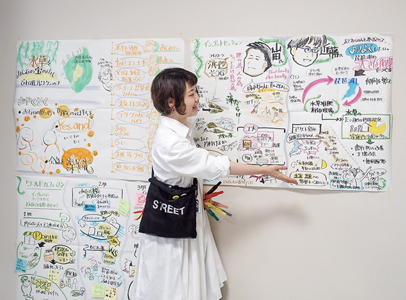 A graphic recording facilitates conversations during the workshop (graphic facilitator: Yuu Aruga).
▲PAGE TOP