Sanitation generally refers to facilities and services for the safe disposal of human urine and feces. Sanitation systems are essential for promoting public health, preventing environmental pollution, conserving ecosystem functions, and recycling resources. The question of how to handle the waste of 10 billion people is therefore highly relevant to the global environment. The UN Millennium Development Goals Report 2015 reported that 2.4 billion people are still using unimproved sanitation facilities, including 946 million people who practice open defecation. Sanitation in the developing world has not been improved dramatically, and it still has high under-five mortality and poverty rates.
The world's population is estimated to reach approximately 10 billion in 2050, and this population growth will happen mostly in developing countries. At the same time, depopulation and aging are increasing, especially in the rural areas of the developed world, and the financial capability of many local governments—which are key agents in the management of sanitation systems—is getting weaker. The conventional approach based on technology and building toilets is not sufficient to address sanitation issues. A holistic model that includes collaboration with local communities in sanitation is necessary.
How we think about sanitation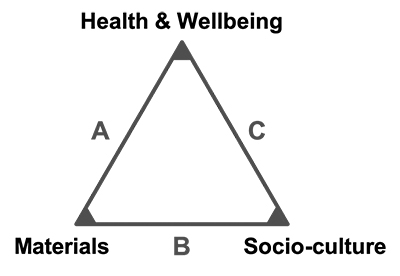 Sanitation has three components: health and wellbeing, materials (technology and economy), and socio-culture. Inadequate sanitation is harmful to physical and mental health, and sanitation is based on technology that promotes an appropriate material cycle. Sanitation technologies entail costs of introduction and maintenance, but they can create benefits by turning human waste into compost or other useful materials. Sanitation is also based on cultural assessments of what is "clean" or "dirty", so the operation of a sanitation system requires a social framework. As a complex of health and wellbeing, materials, and socio-culture, we propose the Sanitation Triangle as a holistic model (Figure 1).
Based on the Sanitation Triangle, project research will uncover the values embedded in societies and cultures and co-create the Sanitation Value Chain by cooperating with various actors related to the sanitation system. We envisage that the Sanitation Value Chain system will improve the health and wellbeing within the community.
Goals of the project
The goals of this research project are to: 1) propose the concept of Sanitation Value Chain in relation to both developing and developed countries; 2) design several pilot studies demonstrating the significance of societal, academic, and professional involvement in the co-creation of this value chain; and 3) contribute to the establishment of a new interdisciplinary academic foundation on sanitation.
▲PAGE TOP
Research topics for achieving the goals
Topic–1 
Topic–2 
Topic–3 
Topic-4 
Research sites
The project is performing fiel studies at four sites: 1) Rural areas in Ishikari River Basin, Hokkaido; 2) Rural areas of Burkina Faso; 3) Urban areas in Indonesia; and 4) Periurban areas in Zambia.
Achievements in FR studies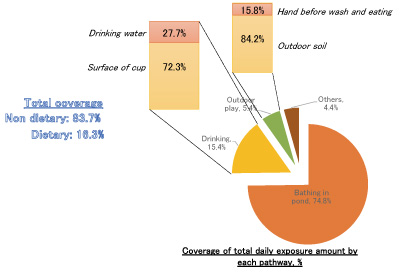 (1) 
(2) 
(3) 
(4) 
(5) 
Notable achievements in FY2020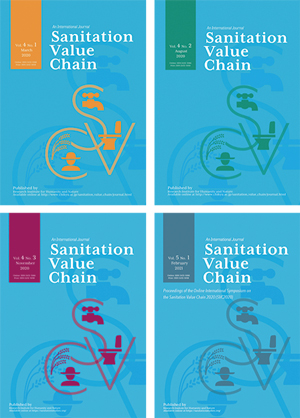 We edited and published the international journal "Sanitation Value Chain" (ISSN: 2432-5066). We have revised the Aims & Scope of the journal to provide young researchers in developing countries with opportunities to publish their research results, and in FY2020, we published Volume 4, Numbers 1, 2, 3, and the proceedings of an international online symposium (Volume 5, Number 1) (Figure 3).
We held frequent webinars with overseas counterparts and conducted an international online symposium (SVC2020) and remote fiel surveys.
We organized our field practices and methodologies such as visualization and meta-research to theorize interand trans-disciplinary research.