Necessity of the study
Peat swamp forests are found throughout Southeast Asia, especially Indonesia, and contain massive stores of carbon and water. Over the last two decades, these swamps have been intensively exploited in order to create commercial acacia and oil palm plantations. As these tree species cannot grow in swamps, peatlands have been drained, creating extensive areas of dried peatlands that are extremely vulnerable to fire.
In 2015, peatland fires burned 2.1 million hectares of forest in Indonesia, affecting 45 million people. A half million people suffered from upper respiratory tract infections, and thousands of people, especially children, were afflicted with asthma. The government responded to this disaster by mobilizing the army, punishing people who set fires, and refusing to issue new peatland development permits. These measures were urgently needed, but provided only short-term relief. The public has demanded longer-term and more sustainable measures, such as rewetting and reforestation of peatlands, activities also promoted by this project since 2012.
The government of Indonesia established the Peatland Restoration Agency in January 2016, and declared that two million hectares of degraded peatlands would be restored by 2019. The objective of this research project is to generate solutions to the current crisis of peat degradation and related fire and haze in tropical regions through action research. The project seeks to identify and implement alternative practices in collaboration with local people, academics, governmental offices and officials, NGOs, and international organizations.
The project conducts multidisciplinary research in order to clarify the entire process of peatland degradation. We are especially focusing on the three topics: A) History of development, B) Peat environment, and C) Climate change. Each topic sheds light on the cyclical series of social and environmental phenomena related to the process of peatland degradation. We study vulnerability and transformability of each topic in order to bring innovative peatland restoration activities to tropical peatland societies.
Research methods and objectives
Peatland ecosystems are vulnerable. We explore their vulnerability with scientific methods, analyzing the socio-economic history of the peatland societies, monitoring greenhouse-gas emissions in various types of peatlands, and tracking historical change in the amount of rainfall and significance of haze. Damage from human disturbance is not completely reversible, however, and it is also necessary to consider sustainable development of the local economy. In order to address this dilemma, we also explore the transformability of peatland societies with trans-disciplinary approaches, in which we promote participation by villages in peatland restoration activities and suggest effective policies to administrators, arrange effective applications of paludiculture and social forestry, and use weather radar to identify potential fire outbreaks.
This research thus supports the future potential of peatland-based societies, the phasing out of monoculture production activity, the development of paludiculture, and the enlargement of protected peatland areas.
Achievements to date
Project researchers introduced the practice of rewetting and reforestation in peatland areas in Bengkalis District, Riau Province in 2010. This experimental site has attracted significant attention especially since 2015, when fire and haze became very serious. Along with project-led international seminars, the site has significantly enhanced public awareness of the potential for rewetting and forestation to regenerate peatland.
We signed the Memoranda of Understanding with the Peatland Restoration Agency of Indonesia and Riau University to conduct action research to restore degraded peatland. Our project has created action plans based on these MOUs and has accordingly begun to implement a restoration program, in which we started the social forestry programs designed to strengthen the land rights of people on degraded state lands.
In addition, as a result of the continuous monitoring of green-house-gas emissions from peatlands, the influences of haze on atmosphere, and the seasonal changes of local rainfall, we are clarifying the influences on and processes of peatland degradation.
Publications
Catastrophe and Regeneration in Indonesia's Peatlands: Ecology, Economy and Society was published by the National University of Singapore Press in 2016. This volume provides inter-disciplinary field-based and historical analyses of peatland degradation through examination of the survival motives of local people, the profit motives of companies, and the conservation motives of Government and NGOs. The book showcases the potential solution of rewetting and reforesting "the people's forest". The book has been reviewed across various media, including leading international academic journals. Our project will continue to build on this research in order to develop new insights on tropical peatland management.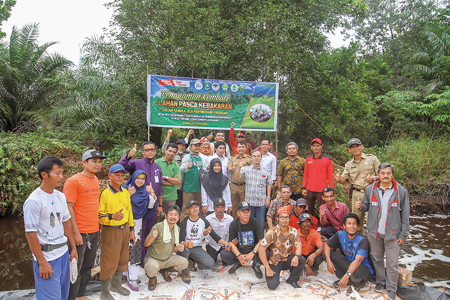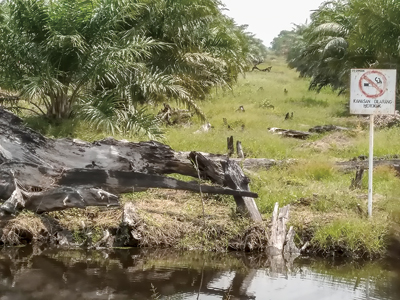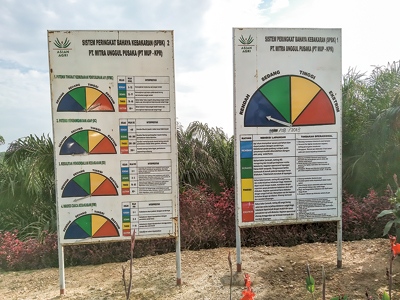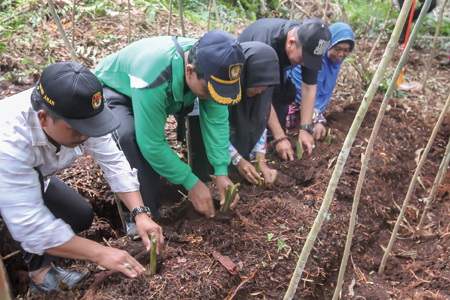 ▲PAGE TOP