On July 5, 2018, the Japan's Research Institute for Humanity and Nature (RIHN), represented by Dr, Tetsuzo Yasunari in his capacity of Director-General and Oman's Sultan Qaboos University, represented by H.E. Dr. Ali Saud Al Bimani in his capacity of Vice Chancellor, entered in a Letter of Understanding (LoU) to strengthen ties, to promote academic cooperation and joint development activities between the parties, and to further cultural understanding in both countries.
Under this LoU, RIHN provides the methodologies of transdisciplinary approaches in collaboration with diverse societal actors as well as research opportunities to develop sustainable societies.
The LoU Ceremony was held at the RIHN, where Dr. Tetsuzo Yasunari, Director-General of RIHN, and Dr, Naima Benkari, a representative of Vice Chancellor of SQU, exchanged LoU documents.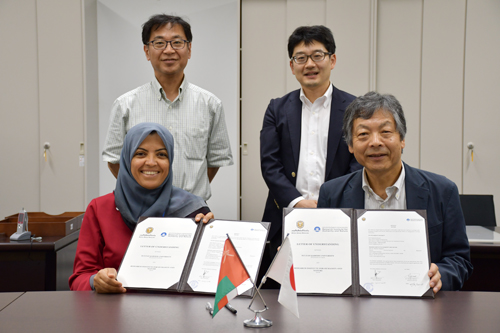 From left to right: Naima Benkari, Makoto Taniguchi, Yasuhisa Kondo, and Tetsuzo Yasunari