Four members of the RIHN project Desertification and Livelihood in Semi-Arid Afro-Eurasia (2012-2016) received the Honorable Award for their paper "Transforming Kassena house and indigenous building technology in Burkina Faso". The paper was selected as the best senior research paper at the SOStierra 2017 International Conference on Vernacular Earthen Architecture. The conference took place in Valencia, Spain, 14-16 September 2017 (for conference details see: http://sostierra2017.blogs.upv.es/).
Abstract: Field surveys were conducted to explore the design and construction methodologies of Kasena earthen compound houses in the Alampoa settlement. Regarding the design methodology, villagers use their steps to determine the dimensions of floor plans in traditional housing units (i.e., mangue/o and diniya-didiyou). Meanwhile, height dimensions are decided by the number of layers of adobe bricks or mud balls used as the earthen material for constructing walls. The construction process was clarified through measurement and interview surveys. These housing units need considerable community cooperation for construction; however, less participation has resulted from lifestyle changes. For this reason, another housing unit that can be constructed more easily using modem materials, the tol-dige, has become popular, especially since the 2010s. The housing transformation has made it difficult to sustain unique building cultures over generations. Therefore, it is time to reevaluate these indigenous building technologies before they disappear.
The authors of the paper are: H. Kobayashi (Kyoto University), T. Shimizu (Hiroshima University), M. Ito (University of Hyogo) and S. Nakao (Research Institute for Humanity and Nature, Kyoto).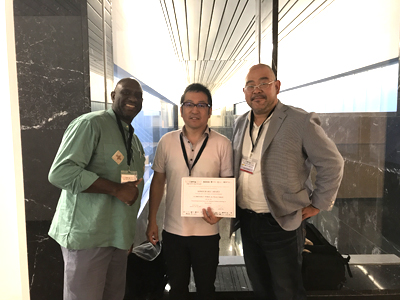 Lead author H. Kobayashi is at center, co-author T. Shimizu at right,
with Oussouby SACKO, (Kyoto Seika University, and an organizer of the conference) at left.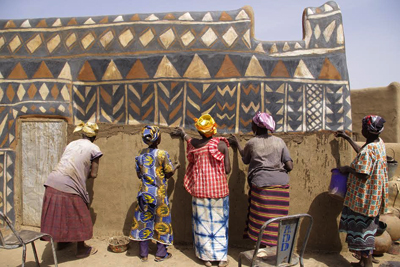 Painting the wall by women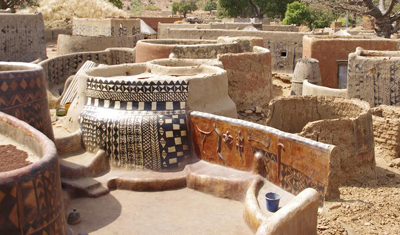 Traditional Kassena Houses