This research project examined the impact of ecological hazards, such as flood, soil erosion, and water pollution, on the inter-relations of food production and public health in Southeast Asian watersheds. Field research was conducted in the Santa Rosa sub-watershed of the Laguna Lake region of the Philippines. Laguna de Bay is one of the largest fresh-water lake in Asia, and its water resources are utilized for agriculture, manufacture, aquaculture, potable water, water transport, and leisure. The region is highly populated and variegated, containing rich ecological resources that are threatened by rapid land use changes, urbanization and industrialization. In many dimensions it is therefore representative of the challenges facing other watersheds in Southeast Asia.
The project had four principal objectives. First, it documented the current levels and pathways of heavy metal, chemical, and organic pollution of Laguna Lake. Second, it investigated the health profile of local residents, the quality of their diet, as well as their perception of food risks. Third, it analyzed the impacts of land use change in the Laguna Lake area on water and material cycles, including sedimentation and groundwater level and quality. Finally, it prepared alternative policy options with the potential to improve environmental quality for sustainable development in the region.
Transdisciplinary approach
Project research teams were comprised mainly of researchers from RIHN, University of the Philippines, Yokohama National University, Shiga University, University of the Ryukyus, and Ehime University. These researchers worked in collaboration with stakeholders such as the Laguna Lake Development Authorities (LLDA), local government units, fishermen's unions, and health workers.
Major project findings include the following: 1) Urban development and industry in the western region and upstream open garbage disposal could be sources of pollutants, indicating the close linkage of environmental degradation and food-health security; 2) Lead (Pb) was identified as prevalent pollutant causing chronic poisoning of local children, as it is known to negatively affect brain and bodily functions; and, 3) A community-based social action research program, called the "Yaman ng Lawa" Program (Blessings of the Lake, in Tagalog), was established in 2012 in order to assess how stakeholder participation improves fishery and water resource management, waste control, and public health.
oward collective action in resource management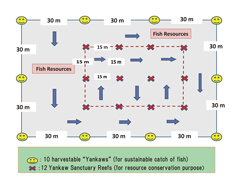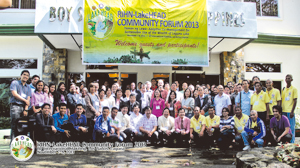 The Yaman ng Lawa Program follows the common resource management idea promoted by E. Ostrom. Such participatory, community-based watershed social action can combat environmental degradation and protect local fish habitat and health of fisheries. Through this participatory approach, we could collect and arrange local knowledge (see Figure). For our transdisciplinary study and activities, RIHN was awarded "Diwa ng Lawa" ("Spirit of the Lake") honors in 2013 by LLDA, the Philippine Government.
In the CR phase of research, we attempt to examine and evaluate how this transformative social experiment may enable environmental conservation and sustainable livelihoods for local fishing folk. Key research questions include: (1) the processes by which major stakeholders participate; (2) how such activities resulted in environmental improvement, and; (3) the major socioeconomic outcomes of this social experiment.
▲PAGE TOP