The purpose of the project
Throughout the world, islands are faced with ongoing deterioration of their precious natural environment due to water shortages, industrial development and other factors. Along with this, local cultures are at risk of disappearing. To solve these problems, it is important to fully understand interaction between natural environment and human social systems on islands. As islands are geographically limited areas, their natural environment and human social systems tend to be different from other areas, and more vulnerable to change. The main subjects of this project were environmental issues related to the unique features of islands. Iriomote Island, a typical subtropical island located in Okinawa Prefecture, was an ideal model, as it is rich in natural resources such as water and virgin forests, as well as traditional art and culture.
Research
1) We built a water balance model of Iriomote Island based on the estimated amount of precipitation, river flow, and evapotranspiration. The model is used as a standard for future water usage. We also assessed the human impact on rivers.
2) We clarified the functions and maintenance mechanisms of broadleaf evergreen and mangrove forests while studying biodiversity and interaction among organisms. We took a closer look at the dynamism of forests and assessed the human impact on forests on Iriomote.
3) We looked into the background of human activities causing deterioration of natural environment, including industrial development, demographic structure and government policies. In particular, we explored how the main industry of the island changed from traditional agriculture to tourism and how the social system changed during the transfer period.
4) Regarding the decision-making process in communities, we studied how local people understand the impact of human activities on the natural environment and how local common rules were modified according to changes in the use of natural resources.
Progress status, achievements, and future challenges
1) To clarify the water balance on Iriomote Island, we placed (and are still placing) monitoring devices on the island. The database was built up to help us make more accurate predictions about the quantity and quality of water that will be available in the future. Our observations have indicated that rain on the island is acidic throughout the year. We have more or less identified the origins of the substances that cause the acid rain and estimated the total amount of such substances falling on the island.
2) Our studies have shown that typhoons affect turnover in broadleaf forests. We have been keeping track of production/circulation of substances in forests and mangroves while monitoring the impact of human activities. We have provided information on effective maintenance and management of forests.
3) We have gathered a variety of reference materials including demographic statistics, administration policies and information on local industries, and categorized them for further analysis. We use these materials to develop measures to promote networking of smallscale industries in the island economy. In this process, we have focused on tourism, agriculture, health and education.
4) We have been in close contact with the islanders by participating in various local events and educational programs designed for schools and communities. As a result, we have learned that community centers on the island play a large role in the community decisionmaking processes.
In order to solve environmental problems on Iriomote Island, local people need a solid economic infrastructure to build self-esteem and become independent. To achieve this, it is important to share useful information with the islanders. We are still proceeding with the project so that the findings can contribute to promoting local industries and growing new ones. We take part in education at schools and in communities from the planning stage, and would like to help locals promote the island's traditional culture and transmission of its performing arts to younger generations.
*http://www1.gifu-u.ac.jp/~kawakubo/iriomote/index01.html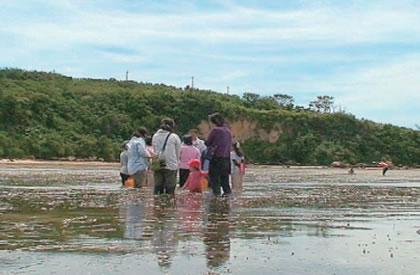 Field school on seagrasses