Sustainability and Biodiversity Assessment on Forest Utilization Options
Terrestrial biodiversity has decreased mainly because of the loss and/or deterioration of forest ecosystems. A system to utilize forest resources while conserving biodiversity should be developed. This project aims to elucidate the socio-economic factors causing forest decrease, the effect of decreasing forest on biodiversity, and the ecological services that might be lost as a consequence of biodiversity loss. We also evaluate the forest-use options both from ecological and socio-economical perspectives to develop a sustainable utilization system.
Findings from the project
The following subjects were studied at four sites, Sarawak state and Sabah state in Malaysia, and Yaku Island and Abukuma Mountains in Japan.
1. Changes of forests and their driving forces - The results were shown as land-use maps and matrices. - Driving forces of change
2. Effects forest changes on biodiversity - Biodiversity losses in each utilization option. The results were shown as biodiversity maps. - Mechanisms of maintenance and loss of biodiversity in natural and disturbed systems
3. Ecosystem functions and services provided by biodiversity and their changes - The results were shown as ecosystem function and service maps.
4. Social institutions on sustainable use of forest biodiversity - Environmental economy of each utilization option. Ecological and socio-economic value of each utilization option.
Based on the results of 1 to 4 above, we built an integrated assessment method for sustainable uses of forest and biodiversity.
Project Contribution
This project demonstrated how forest changes affect biodiversity. Based on this description we proposed an integrated method to assess sustainable uses of forest and biodiversity. The assessment will be useful as ways are sought to resolve problems on uses of forests and biodiversity in each area. The assessment method could be standardized for use by the public and private sectors.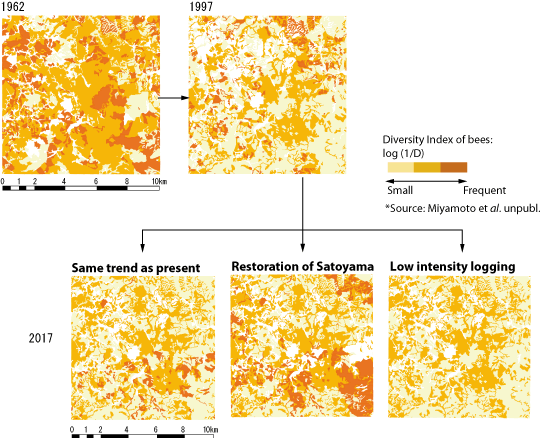 Figure An example ecosystem function maps
This figure shows change of diversity of bees and projections under three scenarios in Abukuma. Restoration of Satoyama is the best scenario for species richness of bees. Satoyama: natural woodland near rural settlement
Published Results
Academic papers with peer review: 203 (English 165, Japanese 38). Papers in books: 67 (English 21, Japanese 46). For the Future of Biodiversity (11 chapters), a curriculum for undergraduate students (RIHN and Showa-do in Japanese). Forest Degradation in the Tropics of Southeast Asia (Jinbun Shoin, in Japanese), Special issue in Ecological Research (2007), Sustainability and Diversity of Forest Ecosystems (2007), and others.