Climate change and economic development are causing increased pressure on water, energy and food resources, presenting communities with increased levels of tradeoffs and potential conflicts among these resources. Therefore, the water-energy-food nexus is one of the most important and fundamental global environmental issues facing the world. As water is the central matter within this cluster, we will focus on the inherent tradeoffs between water and food, and water and energy. For the purposes of this project, we define human-environmental security as the joint optimization between human and environmental security as well as the water-energy and water-food connections. To optimize the governance and management within these inter-connected needs, it is desirable to increase human-environmental security by improving social managements for the water-energy-food nexus. In this research project, we intend to establish a method to manage and optimize the human-environmental security of the water-energy-food nexus. We base our approach on the viewpoint that it is important for a sustainable society to increase human-environmental security and decrease vulnerability by optimizing the connections within the critical water-energy and water-food clusters.
We will take a regional perspective to address these global environmental problems. The geological and geomorphological conditions in our proposed study area are heavily influenced by the so-called "Ring of Fire," around the Pacific Ocean. Within these areas including Japan and Southeast Asia, the hydro-meteorological conditions are dominated by the Asia monsoon. The populations that live under these natural conditions face elevated risk and potential disaster as negative impacts, while also benefitting from positive ecological goods and services.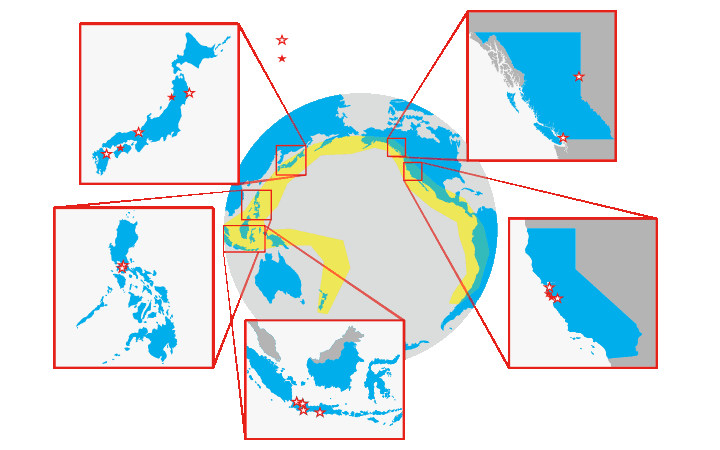 Primary site
Secondary site Pacific Ring of Fire Japan British Columbia, Canada California, America Indonesia Philippine Otsuchi,Iwate Obama,Fukui Beppu,Oita Saijo,Ehime Yuza,Yamagata Calamba & Los Banos Laguna de Bay Jakarta Bay Citarum River Garut Bribin Dawson Creek Vancouver San Francisco Bay Pescadero Younger Lagoon Pajaro Valley
There are therefore tradeoffs and conflicts within the water-energy-food nexus, as well as among various stakeholders in the region.
The objective of this project is to maximize human-environmental security (minimize the vulnerability) by choosing management structures and policies that optimize both the water-food and water-energy connections in Asia-Pacific coastal regions. We define joint security approach as optimized policy for both critical water clusters. Optimal policies will develop joint security approaches for human-environmental security in the coastal region of the Ring of Fire, including stakeholders and decision-makers.