Research backgrounds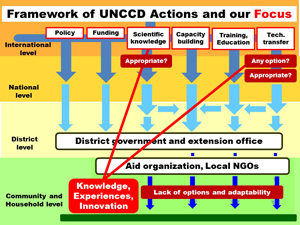 Desertification is a global concern. The international community ratified the United Nations Convention to Combat Desertification (UNCCD), with a special focus on Africa, in 1994. Despite great effort, the problem of desertification has not been solved. Under conditions of increasing population, desertification is primarily caused by daily subsistence livelihood activities, especially in semi-arid Africa. This is a difficult aspect, since local people have to combat desertification without addressing its underlying causes. Following the UNCCD framework, we focus on the knowledge, experiences and innovations at the field level (Figure 1).
▲PAGE TOP
Objectives and study sites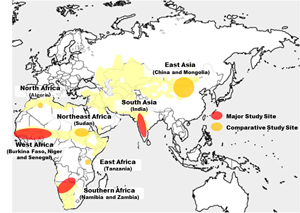 Our project set three objectives: 1) to deepen understanding of the areas experiencing deseritification, and its causes and local strategies for adaptation; 2) to design and verify some practical techniques and approaches for desertification control; and 3) to disseminate the results and experiences.
Study sites are located in semi-arid areas of Africa and Asia (Figure 2), where demographic pressure, uncertain social and economic conditions, and extreme weather degrade ecological conditions and land resources. Major study sites are in the Sahel of West Africa (Burkina Faso, Niger and Senegal), Southern Africa (Namibia and Zambia) and South Asia (India), and some satellite sites are in North Africa (Algeria), Northeast Africa (Sudan), East Africa (Tanzania), and East Asia (Mongolia and China).
Research activities and progress
Together with local people, we developed some practical techniques especially relevant to semi-arid West Africa that enable livelihood improvement and control of desertification.
The 'fallow-band system' is a technique that reduces wind erosion and improves crop yield without any additional cost of labor or materials (Figure 3). It has already entered to the dissemination phase, but in collaborating with a local NGO we can only diffuse the technique slowly at present due to deteriorating security conditions since 2013.
The 'Contour-lines of Andropogon' technique combines Zai (planting pit with manure) and Kukokse (line planting), which is an indigenous technique originated in Burkina Faso (Figure 4). It is effective in reducing water-related soil erosion, trapping nutrients and harvesting rain water. It also contributes to household economy, as the harvest of Andropogon from three rows, each 100 meter long and with a total width of 5 meters, is sometimes equivalent to millet grains consumed in one to two months. One of the remarkable features of the technique is its benefit to vulnerable people, such as elders and widows, who cannot collect as much wild Andropogon as others.
Shallow tillage using an animal-driven harrow, an indigenous farming tool in India, encourages infiltration of rain water to soil (Figure 5). It may improve retention of soil moisture and therefore the growth of crops, grasses and trees.
By adding a sawing attachment to an animal-driven harrow it is possible to grow cowpea, which is a local variety both for human and animal consumption (Figure 6). Degraded grassland is dominant in the Sahel, West Africa, due to over-grazing for many decades. With this technique, we are able to convert some of the degraded grassland into productive fields.
Afforestation is one of the commonly practiced activities for desertification control. The conventional conceptualization of and techniques for afforestation are, however, not necessarily suitable for local conditions, as they rarely improve local subsistence. As shown in Figure 7, Zai (a planting pit with manure) is used to plant tree seedlings. The planting pits collect rainwater, while manure encourages plant growth. If a crop, such as pearl millet or cowpea, is planted around each tree seedling, people are encouraged to weed around them in order to improve the potential harvest, and the weeding also encourages growth of the tree seedling. For afforestation, we intentionally choose an acacia species that produces pods. Pruning increases the productivity of acacia pods, which are sold in local market or stocked as a fodder crop. This technique therefore re-casts afforestation as a 'fodder tree woodland', and not simply as a tree plantation. This kind of design is very important, because local people consider such woodlands as their own work, rather than that of foreigners or the government.
We modified the participatory approach conventionally used in rural development activities by incorporating some steps of 'social network survey' (Figure 8). The innovative aspects of this modification are the visualization of networks and the identification of key persons and vulnerable people.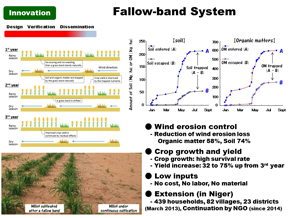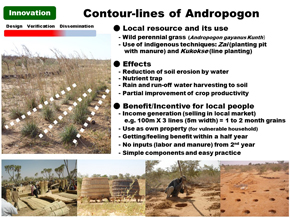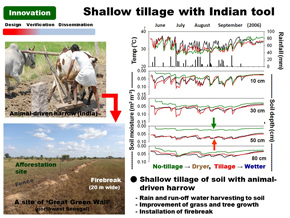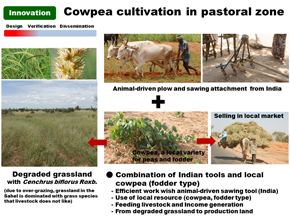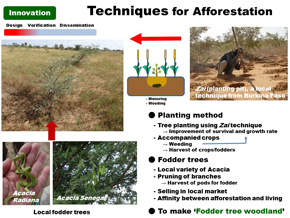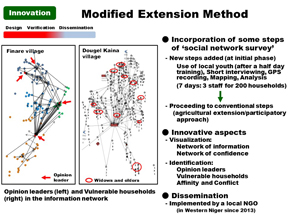 ▲PAGE TOP
Future tasks
Since our project is entering its final year, we are accelerating the dissemination of our research results through publications, and international and domestic workshops. For social implementation, we are providing some of the practical techniques developed in the project to the 'Great Green Wall for the Sahara and the Sahel Initiative', an international desertification project initiated by the African Union and other entities. We are also preparing proposals which should be helpful in linking our academic results to specific future social implementations.
▲PAGE TOP