Research objectives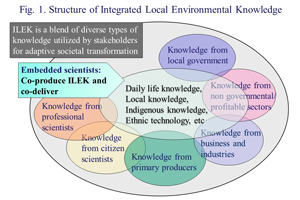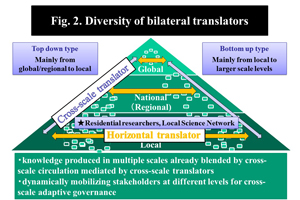 Local ecosystem services have deteriorated all over the world for various reasons. Ecosystem services should be managed as new commons by collaboration of various stakeholders, both within and from outside the communities. In order to create and sustainably manage such commons, the formation and circulation of local knowledge systems deeply embedded in real local settings are desperately needed. Integrated Local Environmental Knowledge (ILEK, Fig. 1), a novel concept of local knowledge blending scientific as well as various types of knowledge systems among stakeholders, is produced, circulated and utilized in diverse cases of local research and actions to support adaptive transformations toward sustainability of local communities.
Our project aims to clarify mechanisms to facilitate production and circulation of ILEK and dynamic transformations of social systems to propose ILEK-based adaptive governance mechanisms of local communities. We also seek mechanisms for cross-scale governance of global environment problems, primarily by analyzing formation of cross-scale knowledge bases mediated by bilateral translators who promote the circulation of knowledge between knowledge producers and users, both within local communities and across global, regional and local scales (Fig. 2). Through the transdisciplinary integration of these research results, we aim to design "science for/with society" and "society making full use of science" for bottom-up solutions of global environmental problems.
▲PAGE TOP
Main results to date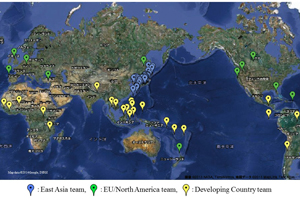 We have selected 61 case study sites from past and ongoing RIHN projects as well as other examples of diverse production of local knowledge in order to accumulate and analyze ILEK production mechanisms (Fig. 3). Project members belonging to the case study group are deeply involved in each local community and conduct participatory research. These researchers also conduct meta-analysis in order to integrate diverse case study results in collaboration with the Theory and Modeling group and various task forces to understand ILEK production and adaptive governance mechanisms leveraged by ILEK. Sixteen cases of Action-based Verification have been selected among case study sites and cases of cross-scale translators to verify focused hypotheses concerning ILEK-based adaptive governance, including the Shiraho community in Ishigaki Island (Japan), Nishibetsu River Watershed (Japan), Sarasota Bay in Florida (USA), Karapinar area (Turkey), Lake Malawi National Park (Malawi), and the Japan Biosphere Reserve Network.
Residential researchers live in local communities, and in contrast to visiting researchers from outside the communities, they conduct transdisciplinary research as local stakeholders and community members. Bilateral knowledge translators promote circulation of knowledge among scientists and diverse knowledge users by evaluating and transforming scientific knowledge from the viewpoints of knowledge users, and by translating knowledge among stakeholders into scientific language.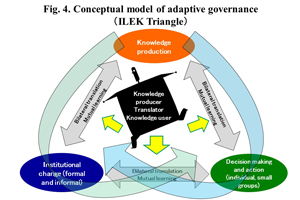 We constructed a conceptual model of ILEK-based adaptive governance focusing on functions of these important actors of local communities (ILEK Triangle, Fig.4), and identified five hypothetical categories of important enablers of adaptive societal transformations promoted by ILEK production and circulation, namely "create and visualize values", "create new linkages (local and cross-scale)", "provide options and opportunities", "create collaborative actions" and "appropriate translation". Participatory observations in case studies from the world and in-depth interviews with various actors playing important roles in knowledge production, circulation and utilization opened a new research approach to understand interactive functions of these enabler categories in the ILEK Triangle, resulted in identification of diversity and multiplicity of bilateral knowledge translations as an important factor of cross-scale governance. The findings will be integrated in the theoretical models together with outcomes from the action-based verification processes to understand elaborate mechanisms of ILEK-based adaptive governance.
▲PAGE TOP
Future research plan
We are moving forward to elaborate the analytical framework of ILEK-based adaptive governance using the ILEK Triangle and the action-based verification processes to verify focused hypotheses derived from meta-analyses of diverse case studies from the world. In order to understand ILEK functions in the real-life adaptive transformation processes in local communities, interactions between science and various types of local knowledge production must be incorporated to the research processes by co-design of research and co-production of knowledge with stakeholders. This transdisciplinary approach to promote intensive interactions, feedbacks and mutual learning among residential/visiting researchers, bilateral translators, and other diverse stakeholders is the core of the ILEK project. We will further strengthen the transdisciplinary approach both in local case studies and abstract meta-analysis processes by designing stakeholder workshops. Action-based verification processes and further development of meta-analyses and modeling methodologies will contribute to production of solution-oriented research outputs to support ILEK-based societal transformations to tackle the challenges of diverse global environmental problems.