Biodiversity-driven Nutrient Cycling and Human Well-being in Social-Ecological Systems
D-06
FS①
FS②
PR
FR①
FR②
FR③
FR④
FR⑤
2016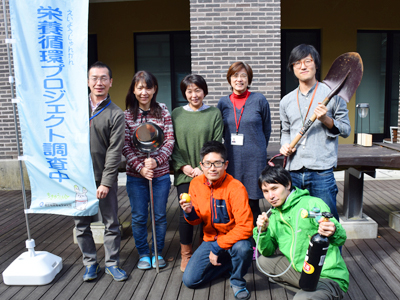 Project Leader
OKUDA Noboru
RIHN
My specialty is ecology, the field of study concerned with the relationships between biodiversity and ecosystem functioning. One of ecology's central questions is why we should conserve biodiversity. While a member of the Center for Ecological Research at Kyoto University, I have approached this question by integrating different research fields related to biodiversity from gene to ecosystem. At present, I am developing methods for adaptive watershed governance in which new environmental knowledge will be developed to reconcile global and regional issues with local issues. I also should say that I love nature and humanity and how they come together very much!
>> Annual Report
Sub Leader
YACHI Shigeo
Kyoto University
Project Researchers at RIHN
ISHIDA Takuya
Project Researcher
ASANO Satoshi
Project Researcher
IKEYA Tohru
Project Researcher
UEHARA Yoshitoshi
Project Research Associate
WATANABE Kirie
Project Research Associate
Main Project Members
IWATA Tomoya
University of Yamanashi
BAN Syuhei
University of Shiga prefecture
OSONO Takashi
Doshisha University
TAYASU Ichiro
RIHN
WAKITA Kenichi
Ryukoku University
SANTOS-BORJA, Adelina C.
Laguna Lake Development Authority, Philippines
Research background and objectives
Technological innovations in the use of nutrients, such as nitrogen and phosphorus, to produce food are related to the great global increase in population, life expectancy, and economic prosperity experienced in the twentieth century. Overexploitation of nutrient resources, however, leads to disturbance of natural biogeochemical cycles, contributing to serious eutrophication in many watersheds around the world. Such nutrient imbalances are a main driver of biodiversity loss at a global scale. It is now recognized that nutrient imbalances and biodiversity loss are prevalent throughout the planet, posing a risk to sustainable human development. In order to solve problems related to nutrient imbalances and to ultimately ensure sustainable social-ecological systems, we have to enhance nutrient recycling at watershed scales.
This project therefore aims to facilitate cross-linkage of multi-level governance, in which governments and researchers with a systemic view intend to solve nutrient imbalance-derived issues at the regional and global scales, while civilians want to solve social and environmental issues in the context of their life and livelihood. For such watershed governance to be successful, local and scientific knowledge must be shared and integrated by a variety of stakeholders in order to reconcile conflicts at different scales. Here we will develop a framework for the adaptive watershed governance, in which civilians are empowered for nature conservation, resulting in enhancement of their well-being, while scientists make visible how biodiversity enhances nutrient recycling through their conservation activities (Fig. 1).
Research methods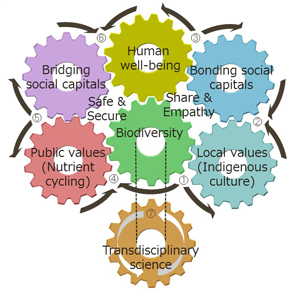 Our hypothesis is that human activities affect biodiversity through alteration of nutrient balances, while biodiversity affects human well-being through alteration of natural and social capitals. A working hypothesis is proposed to explain how well-being is enhanced through community-based governance of natural resources (Fig. 2). First, local communities will be empowered for nature conservation when they value natural resources (or biodiversity) whose wise and sustainable use has been fostered by local or indigenous cultural knowledge (Fig. 2-1). If bonding social capitals are accumulated through sharing of these cultural values by community members (Fig. 2-2), well-being will be enhanced (Fig. 2-3). If scientific knowledge showing that community activities contribute to enhancement of biodiversity-driven nutrient recycling is shared among a variety of stakeholders in a watershed-based society (Fig. 2-4), community activities will be supported by non-community members directly or indirectly through social evaluation of public values from the biodiversity (Fig. 2-5). A shift from bonding to bridging social capitals will reinforce well-being (Fig. 2-6). These processes will be driven by transdisciplinary science (Fig. 2-7).
To test this hypothesis, we will practice adaptive watershed governance in two extreme systems in Asia, the Lake Biwa Watershed and the Laguna de Bay Watershed. The former is an infrastructure-oriented society and the latter a high-loading society.
▲PAGE TOP
Research progress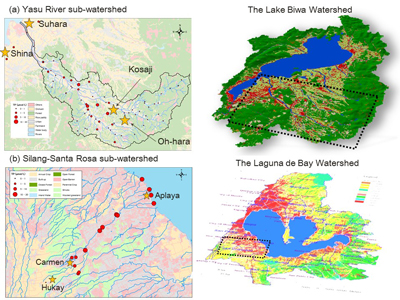 In the Yasu River sub-watershed of Lake Biwa, downstream areas have low phosphate concentration even though they are urbanized (Fig. 3a), suggesting that the extensive sewage treatment system is effective in nutrient removal. Counter-intuitively, phosphate concentrations were among the highest in less populated middle-stream areas where agricultural land uses are dominated.
In the Silang-Santa Rosa sub-watershed of Laguna de Bay, by contrast, the phosphate concentration was much higher than that in the Yasu River sub-watershed, except for its most upstream reaches (Fig. 3b). With recent economic development in this sub-watershed, new residential areas have expanded up into the middle-stream areas. Incomplete sewage treatment systems may be a possible cause of phosphorus loading, resulting in an extreme nutrient imbalance. The loading has caused harmful algal blooms in coastal waters as well as biodiversity loss in the middle- and downstream areas.
In this sub-watershed, until recently local communities managed communal springs wisely as common pool resources (Photos 1 Left). After establishment of a tap water system, however, most of these springs were abandoned (Photos 1 Right). Our project will therefore soon begin action research together with a local community to conserve stream and spring environments (Photos 2).


Perspectives
Infrastructure in developed societies, such as sewage treatment and tap water systems, has reduced eutrophication and led to greater comfort and convenience. Environmental consciousness, however, has receded, especially that related to the nature of wetlands as a lifeworld. What enhances human well-being? Is it enhanced by infrastructure? We want to seek answers to these questions together with a variety of stakeholders.
▲PAGE TOP