This Core Project develops a theory and methodology to reduce information asymmetry between actors in team-based science for socio-environmental cases.
Social issues caused by environment deterioration are often so complex that solution-oriented research is team-based and involves research experts from different domains in interdisciplinary (ID) projects as well as practitioners such as governments, funders, industries, non-profit organizations, and members of civil society in transdisciplinary (TD) projects. Such team-based science is often disrupted by information asymmetry—a condition in which one party has relevant information while the others do not—between participants, as they are actors with different values, knowledge, and socioeconomic status. This asymmetry leads to different understandings of focal issues and other actors.
In our working hypothesis, information asymmetry can be reduced through a combination of: (1) transcend, or an approach to divert a wicked problem between stakeholders to a sharable object or goal for which all actors, including the unengaged public, can work together; (2) participation and empowerment of marginalized (or 'small voice') actors; (3) fair data visualization; and (4) dialogue. These approaches work to re-calibrate the influence of dominant actors such as principal investigator (PI) in ID projects and research experts, funders, and policy makers in TD projects.
As an example of the holistic approach to diversion, ID projects may employ a "switched explanation" in which particular research results are explained by counterpart experts. Civic tech, or participatory co-production of solutions for local issues by self-motivated civic engineers using information and communication technologies and open data, is applied where appropriate in the TD cases. The FAIR data principle (that data is Findable, Accessible, Interoperable, and Reusable) is introduced to encourage researchers to provide their data to the public (the FAIR principle is useful when researchers are reluctant to follow the open data license, in which 'anyone can freely access, use, modify, and share data for any purpose' in sensu stricto).
This working hypothesis is tested in ID, TD, and ID-TD transitional case studies, including community-based waterweed recycling in the Lake Biwa catchment, Japan. The effects of problem diversion on project progress and participants' perceptual transformation are measured through participatory observation, semi-structured interviews, and periodical questionnaire surveys. Based on these assessments, the hypothesis is improved and tested again. This Hypothesis-Practice-Assessment Cycle is repeated flexibly to improve the methodology, which co-evolves and integrates the open science and TD theories as a new paradigm for environmental studies.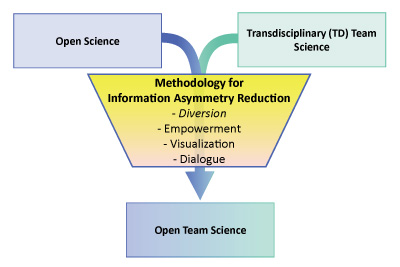 Figure 1 This Core Project integrates open science and transdisciplinary team science theories to create an open team science methodology.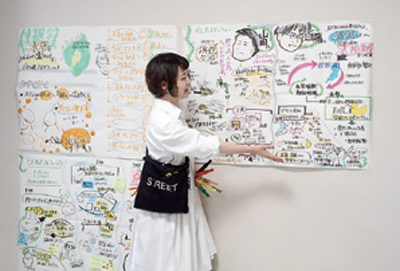 Photo1 Graphic recording works as a method for fair data visualization and dialogue in civic tech workshops.
▲PAGE TOP