Sanitation generally refers to the provision of facilities and services for the safe disposal of human urine and faeces. The word 'sanitation' also refers to the maintenance of hygienic conditions, through services such as garbage collection and wastewater disposal. In this proposal, the word "sanitation" is used to explore the provision of facilities and services for safe disposal and resources recovery of human urine, faeces and wastewater. The world's population is estimated to be approximately 10 billion in 2050, and this population growth will happen mostly in developing countries. UN Millennium Development Goals Report 2015 reported that 2.4 billion people are still using unimproved sanitation facilities, including 946 million people who are still practicing open defecation. And the developing world has still high under 5 mortality and poverty rates. On the other hand, depopulation and aging are progressing especially in rural area of developed world, and the financial capability of local government—which is a key agent in the management of sanitation systems—is becoming weaker.
Sanitation systems are essential for promoting public health, preventing environmental pollution, conserving ecosystem functions, and recycling resources. The question of how to handle the waste of 10 billion people is therefore highly relevant to the global environment.
Working hypothesis of the research
The project has set the following hypothesises:
Hypothesis 1: Current sanitation problems are caused by the dissociation between the value which is provided by the sanitation system and the values of the individual people and/or the community of the people.
Hypothesis 2: Sanitation technologies can't work well without a social and institutional support system. The mismatch between prerequisites of technologies and local characteristics additionally complicates sanitation issues.
Key concept – Sanitation Value chain as a solution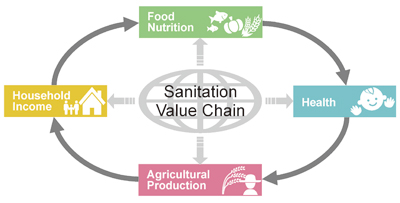 Figure The Sanitation Value Chain acts within and between other important social values
The project proposes a new concept, the Sanitation Value Chain, which has the following dimensions:
1) Places the values of people and community in the center of discussion, and prepares the sanitation system to correspond to this value chain; 2) Designs the sanitation system by focusing on direct incentives for individual users and communities; 3) Recognizes a sanitation system as an integrated system with social and technical units; 4) Designs the sanitation system by making a good match between social characteristics and prerequisites of technologies.
▲PAGE TOP
Goals of the project
The goals of this research project are to: 1) propose the concept of Sanitation Value Chain in relation to both developing and developed countries; 2) design several pilot studies demonstrating the significance of societal, academic, and professional involvement in the co-creation of this value chain; and 3) contribute to the establishment of a new interdisciplinary academic foundation regarding sanitation.
Research topics for achieving the goals
Topic–1: Life and Sanitation

Field survey for analyzing values and happiness of people (1-1); Field and literature surveys on current and historical norms related to human excreta (1-2); Field and literature surveys analyzing examples of the mismatch between prerequisites of sanitation technologies and regional specific characteristics of human and community (1-3); Field and literature surveys on historical change of sanitation system in target areas (1-4); Matching the values of people, community and value provided by sanitation system (1-5).

Topic–2: Technology

Literature survey on prerequisites of sanitation technologies (2-1); Field and literature survey on prerequisites of sanitation technologies in particularly successful cases (2-2); Field and literature surveys to re-evaluate the value of the sanitation system (2-3).

Topic–3: Co-creation of sanitation value chain

Identifying stake holders and understanding the value structures of people and communities (3-1); Analyzing hierarchy and structure of stakeholders' value chain and evaluation of their affinities (3-2); Demonstration of co-creation of the sanitation value chain (3-3).
Research sites
The project will perform field studies at: 1) the rural area in Ishikari River Basin, Hokkaido; 2) the rural area in Burkina Faso; 3) the urban area in Indonesia; and 4) the peri-urban area in Zambia.
Achievements in FS and PR studies
Two field surveys at Lusaka (Zambia) and Bandung (Indonesia), a researcher meeting at Hokkaido University, and a joint seminar with RIHN have been conducted in FS and PR phases. Based on these activities, we have clarified the current sanitation sistuations in our field survey sites. Photo shows the situation in in Kanyama district in Lusaka City, Zambia. The surveys also showed the possible stakeholders related to sanitation and tentative ideas on how to include sanitation systems into user value chains as shown in Figure (for Burkina Faso). Tentative results on the prerequisites of sanitation technologies have also been summarized.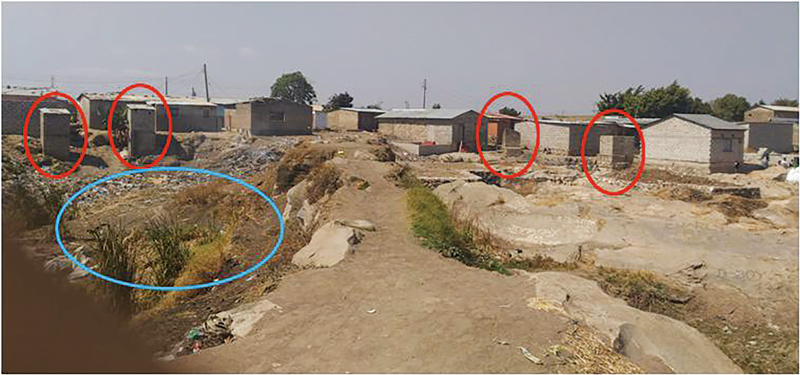 Photo Toilet (red mark in the Photo) and open defecation zone (blue mark) in Kanyama district in Lusaka City, Zambia (Photo by Sikopo P Nyambe)